We are a small but growing group of like-minded souls. We would like to live more gently on the earth. We know from our experiences that we are stronger together. We feel saddened by the environmental crisis facing our planet. We rejoice at the many beautiful things, large and small, being done around the world to heal this artificial separation, and feel inspired to do our part.
We are Buddhists and non-Buddhist, we are monks and nuns, lay men and lay women, we are scientists, yogis, educators, and farmers. We like to live our days and nights under the sun and moon. We are practical people, who like to get their hands dirty, and we believe that if we are not part of the solution, we are part of the problem… Interested in learning more? Please contact us
Founders

:
Br. Tenzin (Dr. Alex Anderson)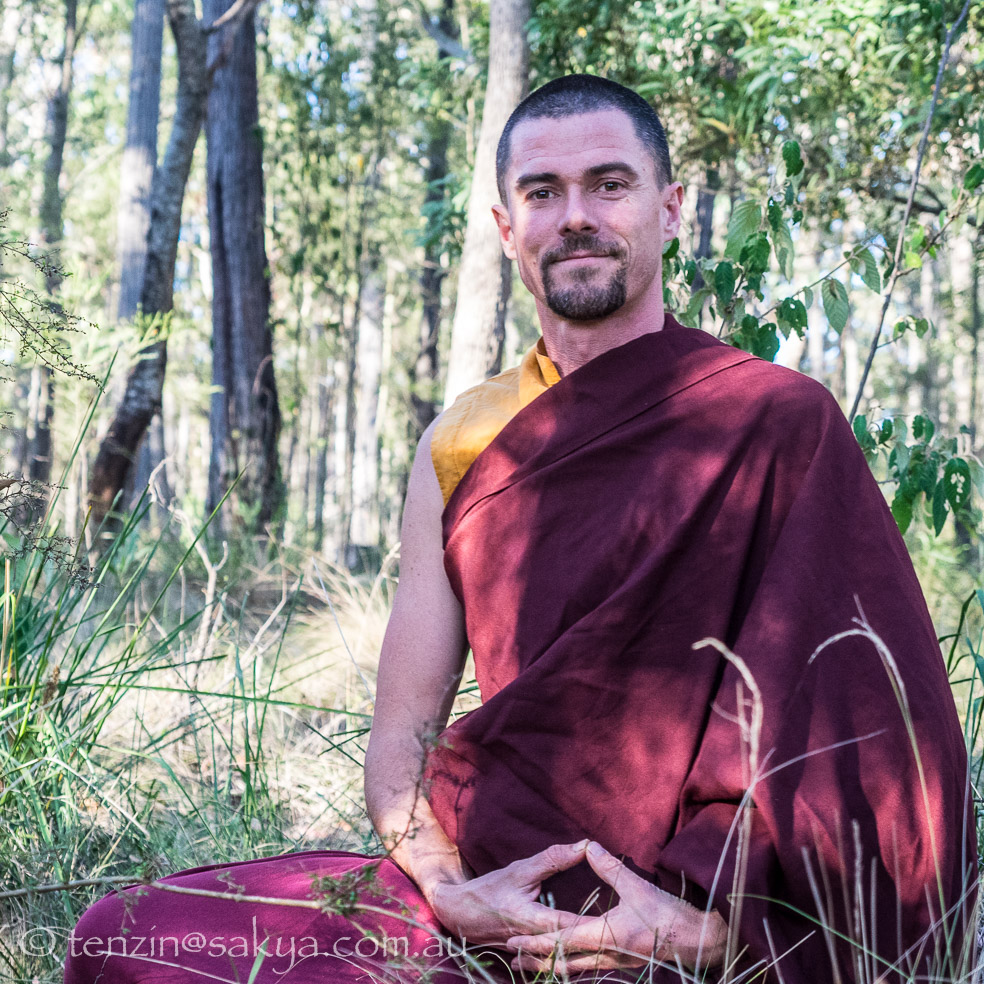 With a background in rainforest ecology, especially climate change impacts in biodiversity, I began my path focused on an intellectual understanding of interdependence. The forest is a wonderful meditation teacher however, and it soon led me to the Dharma.
I am fortunate to have had the opportunity to study and practice under Zen Master Thich Nhat Hanh at Plum Village in the Vietnamese Zen tradition, and though my bikkhu ordination preceptor is in the Tibetan Sakya Tradition, I like to remind myself that I am an "Australian Buddhist". In my personal study and practice I am fascinated by the complementarity of the Theravadin, Zen, Vajrayana and Hatha Yoga approaches to cultivation of the spiritual path.
In 2017 i encountered my main teacher in Bhante Dhammadipa, who along with fundamentals of śamatha and vipassana, teaches a doctrine of "One Buddhism", informed by his long interest and study in both Theravada, and Mahayana, including Zen, as well as other wisdom traditions including Hatha Yoga and Chinese medicine. Inspired by him I have traveled widely for study, pilgrimage and retreat, including periods in Nepal, Myanmar, India, Tibet, Thailand and Vietnam. As of 2017 am also a qualified Hath Yoga instructor.
I am interested in the application of mindfulness to living in harmony within oneself, within community, and with the natural world. In Deep Ecology I find a wonderful community of practitioners dedicated to the exploration of processes aimed at healing our illusion of separation from each other and the natural world. I am also inspired by the cross-overs between these domains, the science of ecology, and environmental activism.
Currently based on the Dorrigo Plateau in the mid-north of NSW, exploring the region and connecting with the local community. I am also enthusiastic about wilderness yatra, (group walking meditation in wild places) as a modality for exploring healthy individuation and connection with the planet in this time of ecological crisis.
Dr Bev Sibthorpe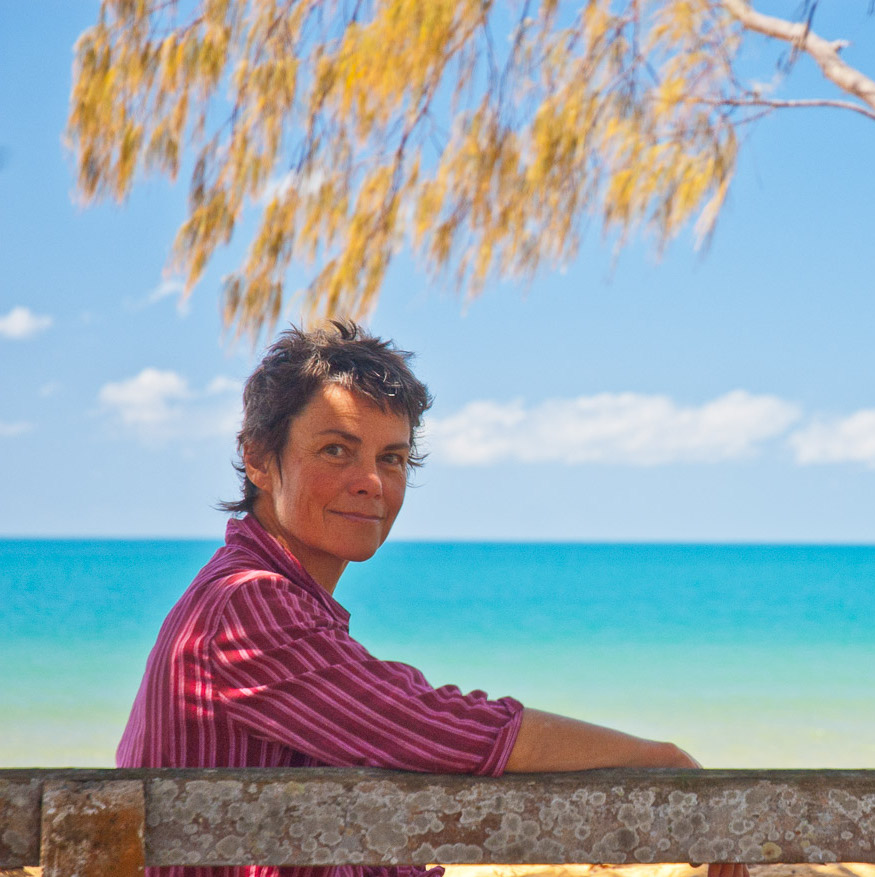 I attribute my comfort in being 'on the land' to my early years living on a small dairy farm in New Zealand. I trained as a nurse in Auckland before going on to study anthropology and human science at the ANU in Canberra, and subsequently worked for several decades as an applied epidemiologist primarily focusing on Aboriginal community controlled primary health care. I've had a lifelong interest in vegie gardening and in recent years have developed my interests in permaculture, syntropic farming, and bush regeneration.
My son Tenzin introduced me to Buddhism and it felt like coming home – philosophically and spiritually – and through him I've had two sojourns at Plum Village in France and spent time at SIBA, the Canberra Buddhist Society's retreat centre in East Gippsland, in both places spending many happy hours in the garden. On returning from my second stay at Plum Village I joined with two others to start a local mindfulness group that meets monthly and has gone from strength to strength.
I have a strong commitment to social justice and equity, to practicing compassion in my daily life, to embracing interbeing, to minimising my planetary footprint, to nurturing my family and friends, to being socially engaged, and to growing food and caring for the land. My grandchildren are a great joy in my life and help to inspire my faith in the possibility of a better future. Forests and beaches are my temples. I'm convinced that the best way to live in our fractured, troubled times is in community.
Leo Lazarus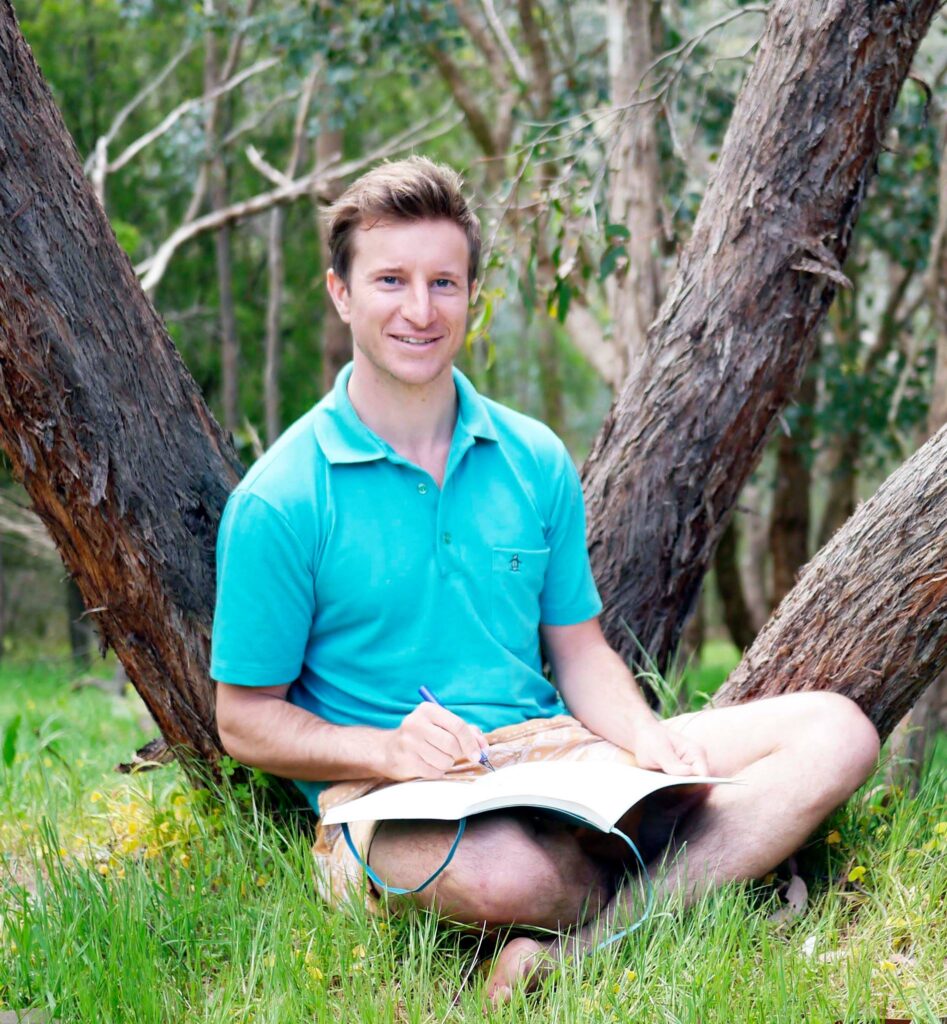 I am a small number of circles Earth has made around the sun. I am a poet, writer, traveller, engineer and lover of all forms of life. Born and raised in Melbourne, I made my way to the fringes of the city in 2015 and began to form a deep and intimate connection to the land of the Warrandyte State Park, Wurundjeri Country. The Birrarung (Yarra River) wound coils through the rocky, sparse country and poetry arose in my heart. Since then I have been balancing an engineering career, with a focus on water networks, sewerage treatment and waterway ecology, with my passion for travel writing and poetry. My work has taken me to amazing parts of the world as a teacher of Human Centred Design for Engineers Without Borders, including Cambodia, India and Nepal.
I became aware of Gaia Forest in 2018 after meeting Tenzin on a Deep Ecology retreat. Community living on the land seems to be the antidote to so many challenges facing us in these times of chaos. Truly caring for the land, rejuvenating land and being fulfilled in the process, is overwhelming without a strong community. Too, living in community can teach us to shed social conditioning which places the individual above the group. For us to return to old ways, but wiser for the lessons, requires us to learn how to harmonise and co-operate.
To Gaia Forest I bring my love of nature, my enthusiasm for hard work, an engineer's brain some days of the week, a poet's on others, and a sharing in a vision for a beautiful, intergenerational community which inspires, soothes, and guides people towards a bright future. I envision a writing centre to accompany many other modalities taught and practised at Gaia Forest, where people can come to immerse themselves in natural wonder, use writing as a tool for exploration of the inner and outer realms and weave together whichever practises are calling them.
Tasch Arndt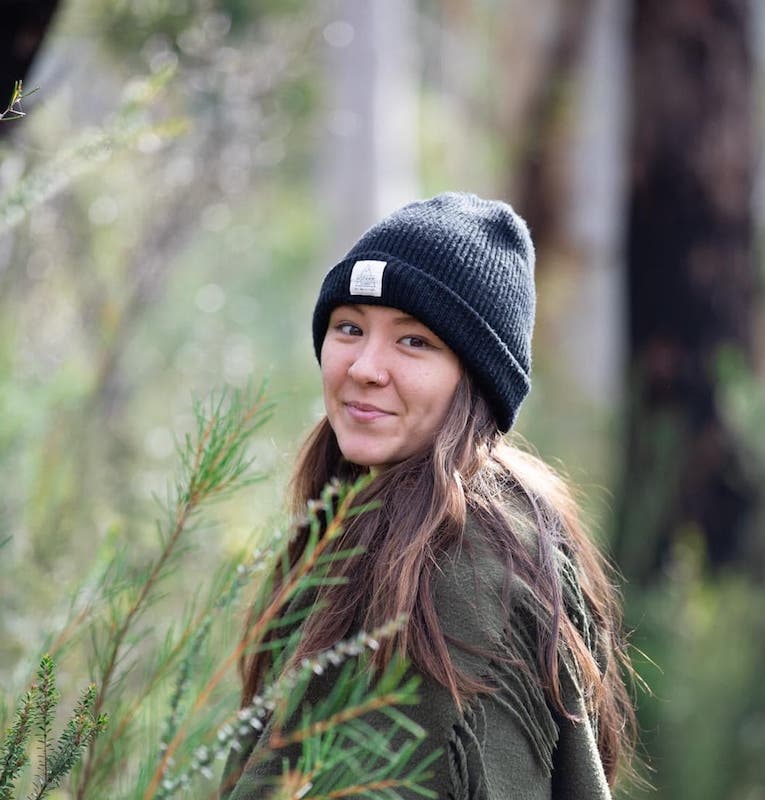 Having grown up across Europe, Asia and Australia, and coming from a mixed-heritage background, I have often longed for roots and a sense of home. With mindfulness, I have found this home in connection with the Earth and like-minded communities of people who want to live well, take care of the Earth and each other. I've travelled widely and come alive when connecting with nature, wild places and people around the world, including time spent living off-grid at an animal refuge in the Ecuadorian rainforest and volunteering on organic farms across Ireland, New Zealand, Portugal and Australia.

I am passionate about taking care of the Earth and the diverse human and more-than-human kin that we share this precious planet with. My interdisciplinary background spans ecology and the social sciences and I hold a Master's degree in Human Geography from the University of Amsterdam. For my Master's thesis I conducted research on feminist agroecology and Community Supported Agriculture. I have studied permaculture, worked on a small-scale organic market garden and believe that sustainable farming can be a regenerative and healing force that can support planetary and human health, reconnect people with the environment and grow thriving communities.

Practicing mindfulness has nourished my heartfelt need for spiritual connection and support during my studies regarding the environmental and human crises we are facing. I came to the Plum Village tradition in 2017 and felt a deep and profound connection to dharma and teachings on interbeing, engaged Buddhism and emphasis on the need for a sangha, a community, to practice with. It is my aspiration to live gently, and well, in a sustainable community with shared practices of care, healing and connection with the Earth.
Supporters

:
Nathan Sutter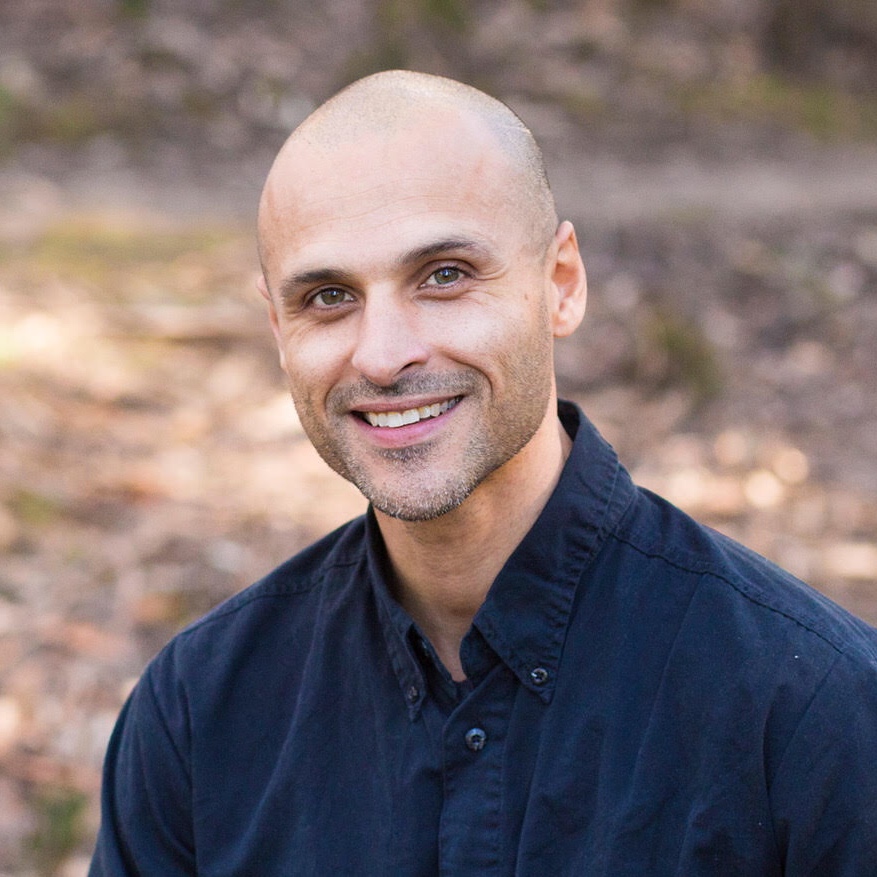 I was born in the middle of a heat wave on the morning of the second day of January in 1979. Childhood was spent playing, climbing and imagining with my three brothers, my rather large extended family meeting mostly on Sundays, at birthdays and marriages for song and ritual. As a young man I remember being drawn to the running waters and isolated ponds that entered the Nepean River at the foothills of the Blue Mountains, where I spent treasured time with my dogs, time outside of walls, and buildings, and cities, inside the wooded stone ambling world.
As a young adult I got lost in the tales of Thoreau's rather large pond, Kerouac on the road, Ryokan, Basho, Ikkyu, Whitman and Oliver to name a few. And, after years of university and attempts at suburban life and inspired by early attempts at solitude, I stumbled hungry and under-kempt (after 12 months on the road in Europe) into the warm embrace of 'Village des Pruniers' the monastic community of my later-to-be teacher and preceptor Venerable Thich Nhat Hanh. It is here that I came to life in the quiet pathways circling and bordering the forests and fields that were refuge to wild boar, deer, squirrel, yellow daffodil, poets and fellow travellers.
Here I found a home for most of my young adult life. After previous years spent in community as an apprentice yoga teacher, and farm hand, monastic life came naturally to me and I found relief in this treasured time of training, study, practice and as an older monk, in time spent on the road. Post monastic life, I continue as a member of Nhat Hahn's 'Order of Inter-being', finding ways to embody the possibility of sanity, balance, care and to quote the late Mary Oliver "something meaningful to work hard at". I believe contemplation to be a gathering, a preparing of the earth and waiting. A disciplined time spent waiting for a revelation that can shift our fundamental view of life, allowing us to experience something personal, maybe liberating, possibly less cliché, often a deliberately courageous attempt at a meaningful life.
Since returning to Australia in October 2016, I have been involved in developing and facilitating a mindfulness program in a secondary school, helped build a chapel out of stone, taught yoga and meditation in various spaces around the country and had the precious opportunity to study under various teachers. In my roles as son, uncle, teacher, student and friend, I find inspiration in the dialogue between Early Buddhist notions of health and wellbeing and 'awakening' and those of the modern, secular kind, 'Mindfulness Based Stress Reduction, Mindfulness Based Cognitive Therapy, Hakomi, and Somatic Experiencing.
I hold dear a vision of 'The Beloved Community' etched deep in my store consciousness, a remnant of the years spent close to my kind-hearted master, I hear him saying "without a community we cannot go very far". What I envision is a space where time can be observed in the seasons, and the sound of bells and the smell of flowers, a coming together in the spirit of practice, harmony and engaged Buddhism.
Sky and Helm Indira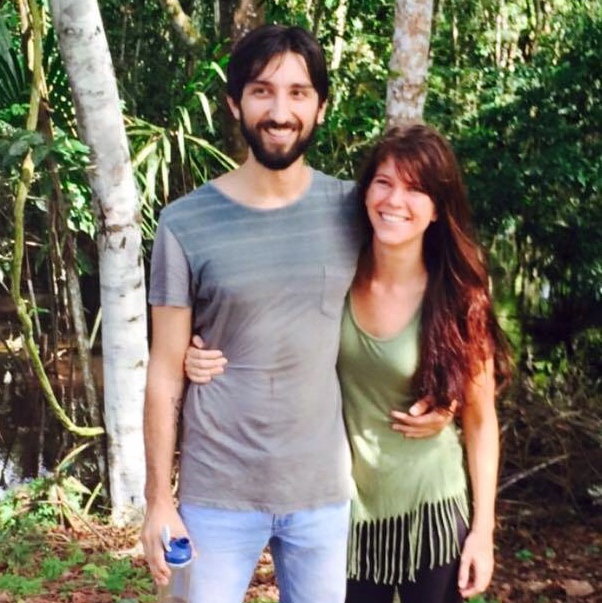 Skye was raised on (and by) a farm in South Africa, where she spent her early years wondering barefoot, hand-raising and rehabilitating wildlife and working as a safari guide. She then trained in traditional Taoist healing practices for three years and qualified as a yoga instructor before travelling to the Peruvian Amazon to study plant medicine.
Helm also grew up close to nature, but tried to 'civilise' himself through a law degree at Melbourne Uni, a few years as a corporate lawyer and then as an insurance dispute resolution case manager. Fortunately he failed, and found his way to the jungle, where he met Skye. Along the way, Helm trained as a counsellor, breathworker, psychotherapeutic journey practitioner, and in Shiatsu.
Together, in Peru, we apprenticed in the Shipibo plant medicine tradition (curanderismo) for five years and facilitated healing retreats for people with all manner of emotional/spiritual/physical maladies.
As lovers of nature and long-term dharma practitioners, we have been lit up by the movement of Deep Ecology / The Work That Reconnects. We currently facilitate retreats and study groups to raise awareness, build resilience and keep ourselves sane. We also facilitate breathwork, plant medicine and nature immersion intensives.
We are passionate about ecological identification, protection and regeneration. As warm-blooded human animals, we are deeply disturbed by the trajectory of our civilisation and the separation consciousness on which it is premised. Now, more than ever, we feel the imperative to explore Earth-friendly culture and ways of being – including spirituality, community, permaculture and soul-centric early childhood education.
Lisa Brown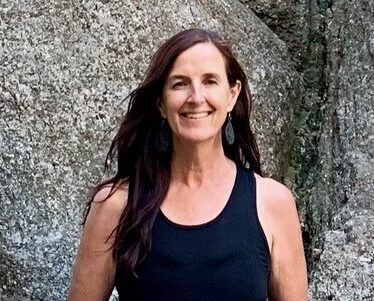 The beauty, courage and creativity of human beings is continually revealed to me in my work as a psychologist through which I hear stories of immense human suffering and social injustice. After reaching a point of burnout in my personal and professional life, I was introduced to mindfulness as a personal practice and began a life-changing journey by training with Jon Kabat-Zinn and Saki Santorelli in Mindfulness-Based Stress Reduction (MBSR).
I'm fortunate to have many extraordinary teachers, including Lama Tendar who has opened my heart and mind to the Tibetan Buddhist teachings on how understanding the mind and cultivating the energy of compassion creates an alchemy of healing and transformation.
As a Yoga Teacher I integrate somatic healing practices in my work, as mindfulness and meditation can be challenging, especially when we are holding the effects of trauma within our bodies. Working as an Adjunct Lecturer at Charles Sturt University I'm inspired by the commonalities between Buddhadharma, western psychology and earth-based wisdom traditions. As well as facilitating MBSR and Mindful-Self Compassion groups, I'm a student of the Insight Meditation Dharma Teacher Training Program mentored by my friend, colleague and teacher Mal Huxter.
I find immense joy in being a grandmother and in connecting with poetry, music, art, community and the beautiful Gumbaynggirr country where I'm blessed to live and work. I'm committed to social and environmental change and feel inspired to contribute to the development of individual and community resilience in meeting the challenges we face collectively on the planet. It is my aspiration to contribute, as part of a collective, to a future where we remember our potential as human beings and our interconnectedness with all things to allow to heal relationships with ourselves, all being and the rivers, oceans, land and sky.